Incorporating the Charm of Antique Sofas in your Living Room
Origin of the Sofa
Did you know that the word "sofa" traces its origins back to ancient Egypt around 2000 BC? Sofa is a Turkish word and is originally derived from the Arabic word "soffa," which means "wool." The Oxford-English Dictionary's original definition of sofa is "a part of the floor, raised a foot or two, covered with rich carpets and cushions and used for sitting upon." These early sofas were a luxury exclusive to the wealthy, including pharaohs. However, the fall of the Roman Empire in the 5th century ushered in the Dark Ages, a period of decline for many aspects of life, including the humble sofa. For almost 1,000 years, sofas disappeared in almost any form beyond basic benches or stools.
Couches of the Dark Ages
Medieval culture discouraged physical comfort, and communal living areas didn't require sofas. Instead, families gathered around the hearth on wooden benches, while churches installed uncomfortable wooden pews to promote spiritual focus.
Fortunately, the Renaissance brought about a renewed appreciation for comfort, art, and culture. Sofas resurged as symbols of luxury and refinement, and their allure endures to this day. Antique sofas now serve as captivating reminders of the past and their incredible journey through history, from the opulence of ancient Egypt to their revival during the Renaissance. As we sink into the soft embrace of modern-day sofas, let's cherish the timeless elegance and captivating history they carry with them.
The Renaissance: Innovation of Comfort and the Rebirth of the Sofa
The Renaissance moved away from the Church's austere values and embraced comfortable living. As stone and wood fell out of style, wall hanging rugs and upholstered seating became popular. Renaissance couches were designed with form over function in mind, featuring intricate wooden designs throughout the legs, back and arms. Though stunning, these sofas were not particularly comfortable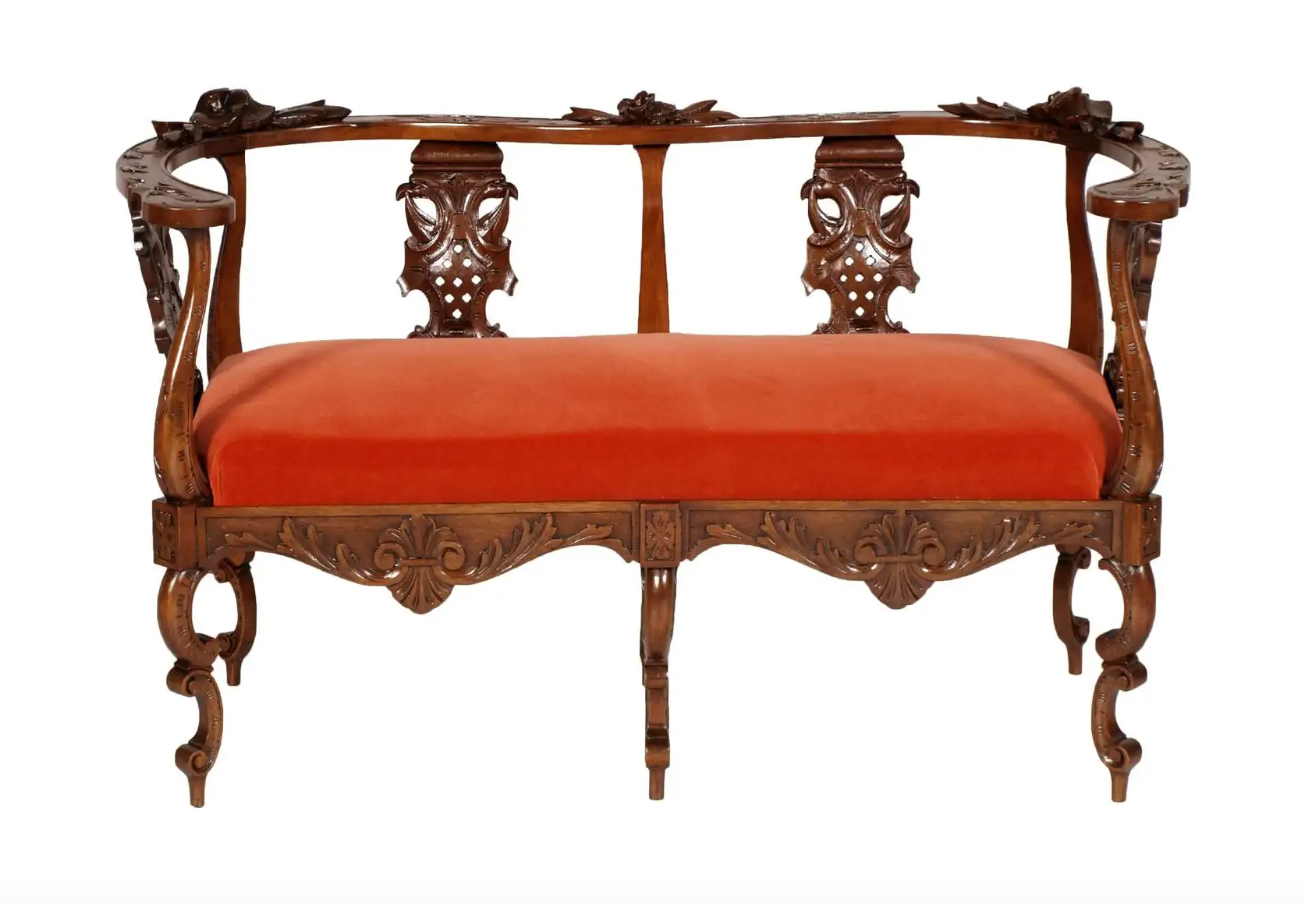 The Baroque Sofa
The French Baroque era was an essential part of the sofa's evolution. Regency styles influenced all of European design. It was during this time that the sofa as we know it began to take form, as the French "double chair" emerged. The double chair had broader and straight backs, and an extended seat to fit two or more people. It also promoted more comfort with cushions built into the seat and armrests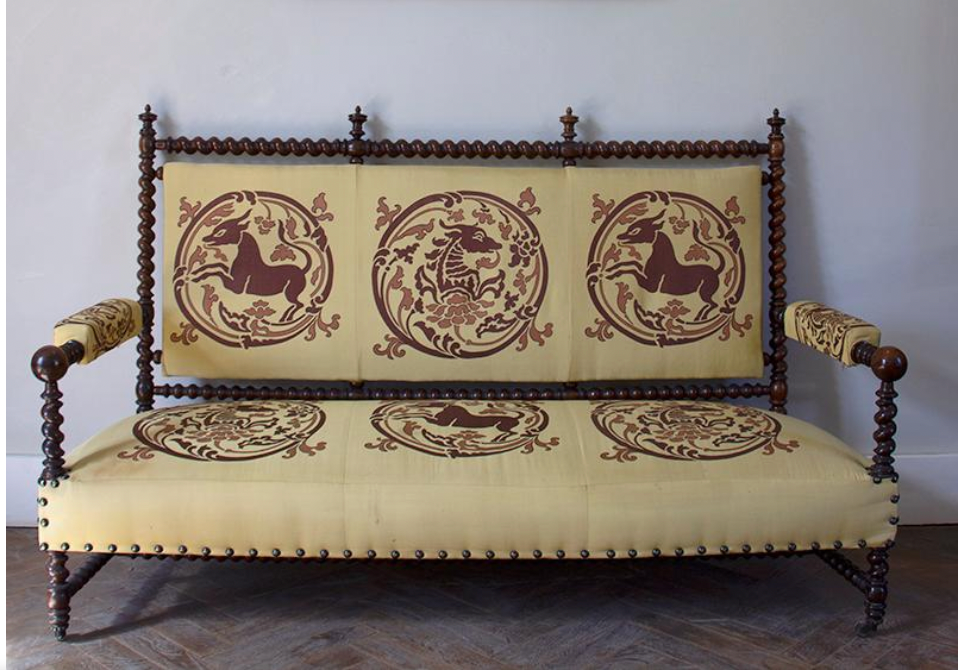 Louis XIV and Louis XV Sofas
The reign of Louis XIV and XV valued opulence and maximum comfort. French nobility were willing to spend a great deal to ensure they would be both comfortable and stylish at court, and commissioned the design of chaise lounges, settees and loveseats. Louis VXI era furniture is characterized by elegance, lightness and simplicity of form.
This Louis XVI Style Settee features pear wood, gorgeous gold upholstery and carved legs. The straight lines of this piece make it easy to integrate this settee into any space.
This stunning Louis XV Chaise is available now on Styylish! The chaise lounge features a walnut frame and newly upholstered striped silk fabric and seat cushions. Add this chaise to your space to make it perfect for lounging, just as they did at French Court!
Chesterfield Sofas: Sophistication From Britain
The origin of these iconic pieces can be traced to the fourth Earl of Chesterfield, Philip Stanhope, who commissioned the first Chesterfield sofa around the mid-1700s. The Earl wanted a seating option that allowed men to sit comfortably without wrinkling their clothing, thus requesting a design with deep-buttoned, quilted leather upholstery and rolled arms.
They boast a deep-buttoned tufting technique that adds a luxurious and textured look to the upholstery, which is often made of high-quality leather. The low back and high arms are rolled and generously padded, providing both comfort and a sense of grandeur. Chesterfield sofas continue to be cherished for their timeless charm and enduring design, capturing the essence of classic elegance for generations to come.
The Sofa of the Industrial Revolution
The industrial revolution (1760-1840) ushered in massive changes to the way that all goods were made and consumed. As chairs and sofas became more mass produced by machines rather than the labor of craftsmen, they transitioned from a luxury item on the rich could afford, to a household necessity. During this time sofas continued to increase in comfortability, featuring cushions and softer upholstery.
Biedermeier Antique Sofa
This 1825 Biedermeier Walnut Sofa is the perfect example of this style of antique sofa. With completely reupholstered seat cushion, striped fabric and a hand polished curved wooden frame, this piece would add character and comfort to any room.
The Italian 19th Century Style Sofa
Another stunning option available on Styylish now is this Biedermeier Sofa or Bench. It dates back to the early phase of the Biedermeier Style (1810-20) and comes from Southern Germany. The elegant settee features a cherry and walnut veneer with wood inlays in the shape of garlands.
The 20th Century Couch
As more middle-class families wanted to purchase sofas for their homes in the 20th century, styles became more functional and less ornate. Modernism became a popular style in the early 1900's, focusing on the beauty of the materials themselves and the elegance of clean lines through straight backs geometric shapes, and uncluttered aesthetics. Modernist furniture is built of innovative materials such as steel, glass, plywood and molded plastics. While minimalist color palettes and fabrics were used, modernism certainly did not compromise on comfort.
1930's Vintage Sofas
This 1930's Baudhaus Style Sofa is an excellent example of a German modernist style sofa. Its curved chrome, steel tube arms and black and white color scheme are exemplary of the vintage sofa style. The black and white polka dot upholstery is a classic minimalist style, and includes two black velvet throw pillows. No matter your style, this dynamic antique sofa suits a room of any kind, providing sleek lines and excellent comfort.
The Perfect Match: Adding an Antique Side Table with Your Sofa
No living room is complete without the perfect side table. Side tables provide a much needed surface for a lamp, your morning coffee, a space for storage, or a relaxing place to write. Consider adding one of these beautiful antique side tables beside your sofa to meet all your needs.
This round Biedermeier Table from Austria Circa 1820 is made of rich walnut and maple woods. Supported by sturdy solid walnut legs and an in-between shelf, this table is as sturdy as it is stylish. Adding to its functionality, the top of this vintage table unfolds to reveal various compartments made from maple and ebonized wood. The top can be locked for added security and convenience.
This exquisite table is the perfect pair for an antique sofa, adding timeless style, sophistication and practicality in one piece. Another fabulous table option is the 19th Century Louis Philippe Antique Side Table. This Louis Philippe style table gorgeous walnut side table features carved legs, and an internal storage compartment. The table is compact enough to fit into any room of the house and add a stunning antique flair.
Antique Sofas Across Time and In Your Home Today
The evolution of sofa design mirrors the history of each bygone era. Consider investing in stunning antique or vintage sofas when cultivating your living space and enjoy the rich history and durability of these pieces. The storied history of the development of sofas provides a wide breadth of options for antique seating when designing your home. Whatever your style may be, Styylish can meet all your antique furniture shopping needs to provide your living room with an antique sofa whose charm suits any room.